Melkbelly
PITH
WIX02
Apr 3rd, 2020
Melkbelly sculpts their signature balance between subtle melody and frantic noise on new album PITH, their second for Carpark Records/Wax Nine. The Chicago-based foursome has made spatial dynamics central to its arrangements, reaching for weirder highs and more startling atmospherics, negative space giving way to enveloping walls of chaos. This sense of form is reflected not only in the purposeful production, but in the ceramic cover art created by Chicago artist Deborah Handler.
Recording in two short sessions six months apart, the band worked with longtime collaborator Dave Vettraino, this time at Bloomington, Indiana's Russian Recording. Alongside an arsenal of rock gear and airy synth layers coaxed from a Moog Prodigy, PITH's multidimensionality was refined by the studio's collection of rare Russian tube mics, which were placed in every corner to capture Melkbelly's unabashed loudness. Frontperson Miranda Winters' charmingly bright vocals are newly effected, delayed to a menacing, mysterious thickness. Guitars, handled by Miranda and Bart Winters, interlock and separate with dizzying ease, riffs dissolving into floating trails and reappearing with metallic edges. Bassist Liam Winters' low grooves bounce and kick along with drummer James Wetzel's rhythmically unsettling performance, which stretches time yet never falters.
After two years touring internationally, the band felt comfortable enough to rearrange songs they knew well, their renewed closeness guiding them. Their literally familial relationship was crucial for support, as PITH was summoned from a place of mourning. "We lost an incredible friend suddenly and nostalgia always acts as a helpful tool for me in navigating difficult times," Miranda says. "Revisiting emotionally challenging moments or significant social interactions helps shed light on confusing feelings for me. Lyrically, grief gave way to considering life," she elaborates. Considering life is exactly right, as Miranda also attributes inspiration to her pregnancy throughout the recording process. Consequently, she drew from diverse scenes—Grimm-like children's stories too dark for kids; thorny, mossy forests—to create stories that feel distinctly Melkbellian: philosophically strange, strikingly textural, funny and sad and open-hearted.
Maturation, as well as their DIY reverence, can be heard on the tempo-shifting "Sickeningly Teeth." It's an homage to "feel[ing] like shit really loudly or obnoxiously. You know, in an unapologetic youthful way," deadpans Miranda. James describes it as a "rhythmic exploration to make the song feel like it's pulling itself apart." Follow-up single "LCR" similarly shapes PITH's dynamics and mood. Its shifting signatures held steady by James' frantic beat, the track is a purgatorial homage to motion, ultimately propelled by its tangled guitars and layered vocal harmonies. "It's about how having conversations with the dead can scoot you along in life, even when you're really only hearing one side of the conversation or making up the other half," says Miranda.
Since their 2017 debut Nothing Valley, the members of Melkbelly have an even better understanding of their sonic motivations. "We're always going to sort through the past to make better sense of the present," Miranda says, and in doing so Melkbelly continually finds ways to mutate its sound. On PITH, Melkbelly sought space, and succeeded in crafting it. What a pleasure to be let in.
Tracklisting
THC
Sickeningly Teeth
LCR
Little Bug
Humid Heart
Kissing Under Some Bats
Season of the Goose
Mr. Coda
Stone Your Friends
Take H20
Flatness
Audio
Press Info
PRESS CONTACTS:
Jacob Daneman, jacob@pitchperfectpr.com
PITH:
North American publicity by Pitch Perfect
College/Non-Commercial radio by Terrorbird
Digital Marketing by Terrorbird
Black and Purple colored vinyl
"LCR," "Sickengly Teeth" and "Humid Heart" music videos in the works
North American and European touring in 2020
Vinyl includes free digital download
UPCs:
LP: 677517700213
CD:677517700220
Digital: 677517700251
Upcoming 2020 Tour Dates:
4/04 – Chicago, IL – Sleeping Village
4/22 – Toronto, ON – Baby G
4/23 – Montreal, QC – Le Ritz
4/24 – Providence, RI – Columbus Theater
4/26 – Brooklyn, NY – Union Pool
4/29 – Washington, DC – Comet Ping Pong
4/30 – Philadelphia, PA – Boot & Saddle
5/01 – Pittsburgh, PA – Mr. Roboto Project
Press Photos
ALBUM ARTWORK: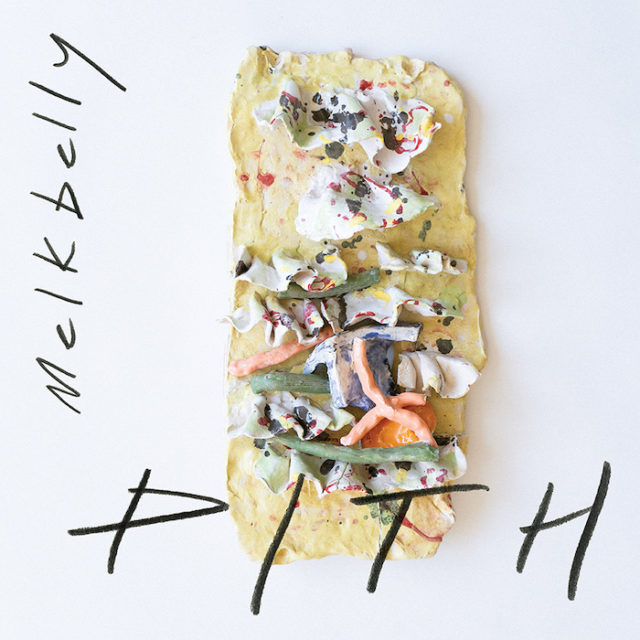 Lead Press Photos: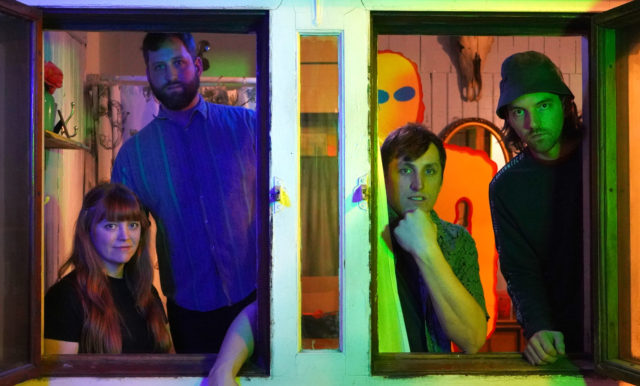 Artist Bio
Noisy, subversively catchy and rhythmically sophisticated Chicago quartet Melkbelly emerged from Chicago's DIY spaces with its experimental instincts intact in songs.  Melkbelly's members live and breathe Chicago's art and music underground where their paths crossed and alliances were forged. Vocalist/guitarist Miranda Winters played solo in folk rock project reddelicious. Brothers Bart and Liam Winters (the tall fellas playing guitar and bass in Melkbelly) ran an influential show space in Chicago. Drawn together by their passion for East Coast noise, particularly the flavor originating from Miranda's previous homebase of Providence, RI, Miranda and Bart of Coffin Ships recruited James Wetzel, who studied jazz drums in college, from improvisational free-drum/noise duo Ree-Yees. This new group of friends orbiting the loft and art scene, began collaborating on each other's projects, formalizing in a more guitar-driven quartet Melkbelly in 2014. Melkbelly ramped up its Chicago activity and an East Coast foray that included opening slots for Xylouris White, Black Pus, and a gig at the soon to be closed Death By Audio that left band members buzzing about the possibilities.
Melkbelly's debut EP Pennsylvania came out that same year. Engineered by Cooper Crain of Cave/Bitchin' Bajas, the record came easily. "It all kind of just fell out. They were the first six songs we ever wrote. It was almost like an exercise and it was recorded in just a day," says Wetzel. The Chicago Reader enthused for single "Doomspringa" with its "noisy guitar freak-outs" and "beautifully melodic verses" and compared Melkbelly, accurately, to a hybrid of the Breeders and Lightning Bolt.
In 2016, the band tested the waters with new material, recording two 7-inch singles with Dave Vettraino at Chicago's Public House—the band had previously contributed to Public House's Digital Single Series and a tape compilation–while continuing to tour. Inspired by the geography of a West Coast tour, shared band experiences, the van "as a magical place" and failed touristic detours at a meteor crater (it was closed) and Spiral Jetty (not van-friendly), the band gathered material written by Miranda and spawned from recorded jams for its next album. In early 2017, Melkbelly recorded Nothing Valley with Vettraino, writing about half the album in the studio and tracking it to 8-track analog tape.
Nothing Valley isn't just Melkbelly's debut, it is the anticipated inaugural release for Wax Nine Records (a sister label to Carpark Records) headed by Sadie Dupuis of Speedy Ortiz–who's been a Melkbelly superfan ever since proclaiming their "Bathroom at the Beach" 7″ 2015's Song of the Summer for The Talkhouse.