3 Poems by Claudia Delfina Cardona
---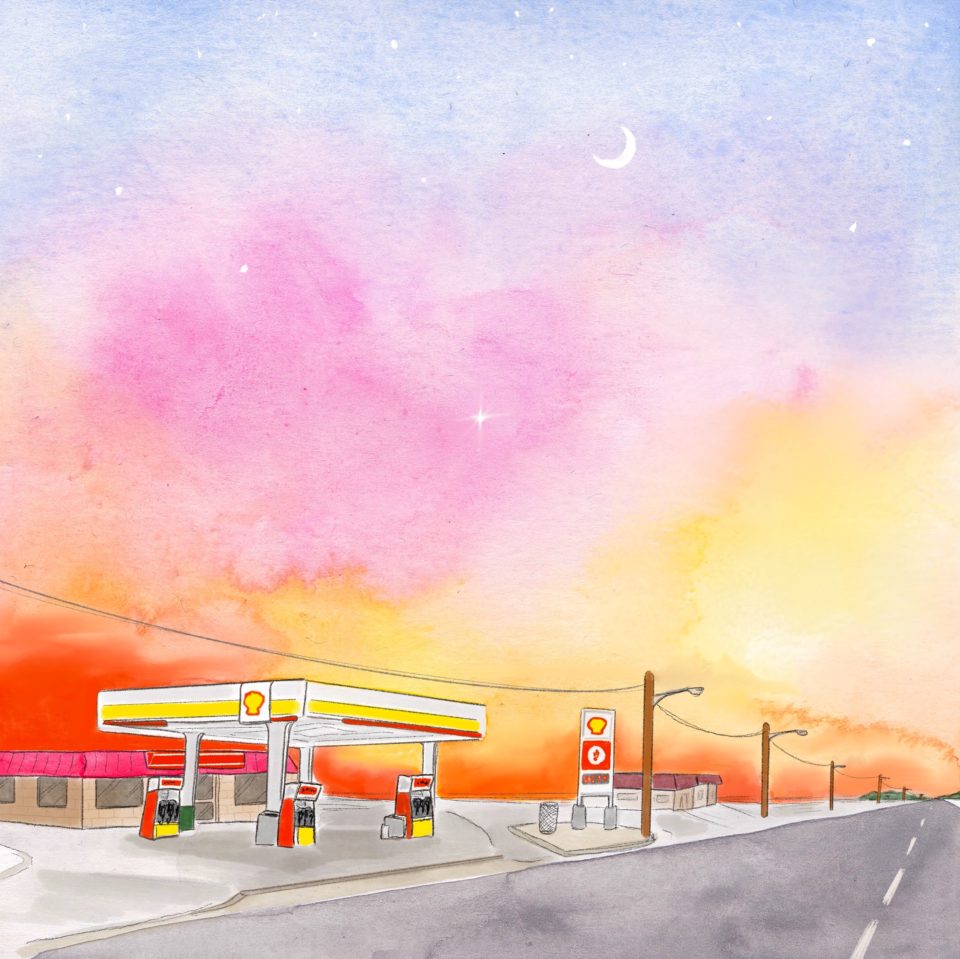 ---
Moon in Leo
I wear agave plants, stars, and mermaids
on my ears. I put bleach in my hair
and leap across summer cement
while a Brazilian psychedelic song
trembles in my headphones.
When the hours lean closer
to midnight, I walk alone
into the ice house and take off
my grey blazer. The undoing
is my favorite part. I take my time
to re-apply my brick red lipstick
and toast to the full moon
and friendship. Tonight,
my outfit reflects the colors
of Culebra Road: the orange
of a Jarritos, the yellow
of a taqueria, the blush pink
of a paleta. I dress like this
partly because I want to be noticed,
but mostly because I want to celebrate
that all of these days are mine.
---
My Own Private Corpus Christi
        After Morgan Parker's "Matt"
On I-37, three hours were like days. We drank grape 4lokos til early Texas sky peeled back like
an onion & rain looked like tinsel. All the Shell gas station signs were nearby stars at 4 am. Matt
sped to one & bought us breakfast tacos shrouded in grease-stained yellow paper. The smell of
hot sauce & malt liquor stained my car seats for weeks. & when the morning unfolded like a
letter, the gray sky overwhelmed me. We made our way to an expensive oyster bar & the city
looked empty. We tried to go to the aquarium but it was closed. On our defeated walk to the car,
Matt told me about the time he saw a dead whale washed ashore when he was a kid. I wanted
him to think of it as significant, but he didn't. Now, I am visiting Portland, walking to a Dairy
Queen with a friend. I tell her that sometimes I find myself missing Corpus & she reminds me
how close to death we were & how stupid that trip was & she is right. The truth is that I miss
infatuation. How it can feel like trying to drink a flood. On our walk to the hotel, I spoon
chocolate ice cream into my mouth & peer into every bright & naked window. One shows me
mid-century modern furniture & walls so white they radiate. A man's silhouette is temporarily
tattooed on the kitchen wall & I imagine he is waiting for his wife who is out doing hot yoga.
Her floral tattoos bending along the small curves of her body while he makes pad thai. I am so
jealous. & I cannot help but imagine a future where I watch Matt undress my copy of Nancy &
Lee while I admire his gin blossoms. Our apartment's lighting is honey-soaked & Corpus is so
far away. We couldn't make it by morning, even if we tried.
---
Morning Ritual
1. While you wait for water to boil, think of the first time.

2. The night you asked if he had a favorite from Joni Mitchell's Blue.
How he said, The first one. Said, I'm really into first songs
& asked if you had any tattoos. & how you peeled back your skirt
like an orange to show him where you wanted your first.

3. Think of how he looked. His eyes half shut like waxing
crescent moons & how he commanded you to show him again.
& you did. The bar bench was damp & your shoes touched his
like magnets.

4. Think of Chris Isaak's "Wicked Game." You both sang so close
to each others' faces that you ended up kissing on your friend's couch.
The banner above our scalps read, Fire Walk With Me.

5. Remember how he took off his shirt like
we were in a movie & how he wrapped you in a blanket
when we were done & said he had to leave.

6. Remember what your friend said, sex is so fleeting.

7. Think of the moment between kissing him
& not kissing him, & how you want to live there.

8. Remember that you already live there.

9. Your whole life is that moment between kissing
& not kissing him.

10. Stare out the sliding door until the sky turns
to bright blue tissue paper. Until the steam & whistle
pulls your head apart like a wishbone.
---